Ask Not What Your Blog Can Do For You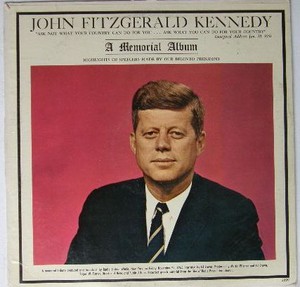 Jumping right on the 50th anniversary bandwagon, here's an album of JFK's best oratorical moments.
On December 12, 1963 this vinyl LP set a record for album sales. A total of 4 million copies sold in the first six days of its release.The album, released on the Premier label, included recordings of some of Kennedy's most memorable speeches, as well as memorial tributes to the president broadcast in the aftermath of his assassination on November 22, 1963. The recordings included excerpts from his inaugural address and his campaign debates with Richard Nixon as well as highlights from speeches on a variety of topics from civil rights to space to the Cuban Missile Crisis of October 1962. Some of Kennedy's most enduring quotes were captured on the album including "ask not what your country can do for you, ask what you can do for your country" (from his inaugural) and "ich bin ein Berliner" (translated as "I too, am a Berliner") from a speech he delivered at the Berlin Wall during the height of the Cold War. Each copy of the album cost 99 cents and the proceeds went to the Joseph Kennedy, Jr., Foundation for Mental Retardation.
A1

Pre-Election Speech Of Senator Kennedy

A2

Oath Of Office For Presidency By J.F.K.

A3

Inaugural Address By J.F.K.

A4

Presidential Press Conference

A5

J.F.K. Speech On Space Flight

A6

J.F.K. Speech On Cuban Crisis.

B1

J.F.K. Speech In Houston, Texas

B2

Newscast Of Assassination

B3

Eyewitness Account Of Assassination

B4

Ambassador Adlai Stevenson

B5

Senator Barry Goldwater

B6

General Dwight D. Eisenhower

B7

Prime Minister Sir Alec Home

B8

His Holiness Pope Paul VI

B9

President Lyndon B. Johnson

B10

Eulogy - Taps